Shipping to the UK and USA only.
Cost calculated at checkout
Description
This practical travel guide to Crete features detailed factual travel tips and points-of-interest structured lists of all iconic must-see sights as well as some off-the-beaten-track treasures. Our itinerary suggestions and expert author picks of things to see and do will make it a perfect companion both, ahead of your trip and on the ground. This Crete guide book is packed full of details on how to get there and around, pre-departure information and top time-saving tips, including a visual list of things not to miss. Our colour-coded maps make Crete easier to navigate while you're there. This guide book to Crete has been fully updated post-COVID-19 and it comes with a free eBook.

The Rough Guide to CRETE covers: Iraklio; Lasithi; Rethymno; Hania.

Inside this Crete travel guide you'll find:

RECOMMENDATIONS FOR EVERY TYPE OF TRAVELLER
Experiences selected for every kind of trip to Crete, from off-the-beaten-track adventures in the Minoan palace of Knossos to family activities in child-friendly places, like Elafonisi or chilled-out breaks in popular tourist areas, like Lasithi Plateau.

PRACTICAL TRAVEL TIPS
Essential pre-departure information including Crete entry requirements, getting around, health information, travelling with children, sports and outdoor activities, food and drink, festivals, culture and etiquette, shopping, tips for travellers with disabilities and more.

TIME-SAVING ITINERARIES
Includes carefully planned routes covering the best of Crete, which give a taste of the richness and diversity of the destination, and have been created for different time frames or types of trip.

DETAILED REGIONAL COVERAGE
Clear structure within each sightseeing chapter of this Crete travel guide includes regional highlights, brief history, detailed sights and places ordered geographically, recommended restaurants, hotels, bars, clubs and major shops or entertainment options.

INSIGHTS INTO GETTING AROUND LIKE A LOCAL
Tips on how to beat the crowds, save time and money and find the best local spots for beach walks, hiking, visiting water parks or hiking one of Crete's countless gorge hikes that take you from the mountains to the sea.

HIGHLIGHTS OF THINGS NOT TO MISS
Rough Guides' rundown of Hania, Agios Nikolaos, Sitia and Rethymno's best sights and top experiences helps to make the most of each trip to Crete, even in a short time.

HONEST AND INDEPENDENT REVIEWS
Written by Rough Guides' expert authors with a trademark blend of humour, honesty and expertise, this Crete guide book will help you find the best places, matching different needs.

BACKGROUND INFORMATION
Comprehensive 'Contexts' chapter of this travel guide to Crete features fascinating insights into Crete, with coverage of history, religion, ethnic groups, environment, wildlife and books, plus a handy language section and glossary.

FABULOUS FULL COLOUR PHOTOGRAPHY
Features inspirational colour photography, including the stunning Lasithi Plateau and the spectacular Melidoni Cave.

COLOUR-CODED MAPPING
Practical full-colour maps, with clearly numbered, colour-coded keys for quick orientation in Iraklio, Lasithi and many more locations in Crete, reduce the need to go online.

USER-FRIENDLY LAYOUT
With helpful icons, and organised by neighbourhood to help you pick the best spots to spend your time.

FREE EBOOK
Free eBook download with every purchase of this guide book to Crete allows you to access all of the content from your phone or tablet, for on-the-road exploration.
Book Details
ISBN: 9781789197372
Series: Rough Guides Main Series
Publication Date: 2/1/2022
Pages: 384
Dimensions: 129 x 198mm
Series
This title is a part of Rough Guides Main Series
Practical travel guides series covering countries, cities and regions, with detailed factual travel tips, perfect for independent, long-stay, backpacking and budget-conscious travellers seeking comprehensive travel information and off-the-beaten track experiences
Extensive practical travel information including getting there, getting around, climate information, safety tips, accommodation explanations, food & drink advice and shopping essentials

Curated author picks with destination highlights at the beginning of each guide

Ready-made itineraries covering every corner of the destination

Colour-coded places chapters with detailed coverage of places and sights, presented in a points-of-interest structure

Extensive recommendations for accommodation, restaurants, shops and leisure activities for all budgets

Colour-coded detailed maps with marked-up key sights

Insights on history and nature highlights

Easy to use, newspaper-style layout

All guides published from January 2021 are printed on paper from responsible sources verified to meet FSC's strict environmental and social standards

Free eBook with each printed guide published from May 2019
Format: 129 x 198mm
Price: £14.99-£26.99 | $13.99-$34.99
Extent: 616–1208 page
FAQs
Which payment options can I use in the Rough Guides Shop?

You can pay with credit card: Visa, MasterCard, American Express, and via PayPal.

How long will it take to receive my order from the Rough Guides Shop?

If you've ordered an ebook, it will be delivered to you via email immediately after your purchase.

For printed book orders, we offer DPD next day delivery in the United Kingdom and Northern Ireland and standard (2-8 days), priority (1-3 days) delivery options in the USA.

Please be aware that the delivery times are based on when your item was dispatched and not when you ordered your item. Unless stated otherwise, we intend to send items on the next available business day.

Currently we do not provide a tracking number for your order.

How can I contact Rough Guides about a shop order?

You can contact our shop team at "[email protected]".

To help our team reply faster, please copy and use one of the following email subject lines:

"Book shop: orders, shipping, returns"
"Website: general usage and technical problems"
"Guide books: corrections and other questions"
"Tailor-made travel"
Reviews
Customer Reviews
5.0 out of 5, 2 global ratings
Amazon Customer
Reviewed on August 20, 2022
Paperback | Verified
My holiday destination has changed so haven't put this to use yet but have enjoyed reading up on it.
Amazon Customer
Reviewed on June 11, 2022
Paperback | Verified
This is a well produced publication, detailed, informative, well informed.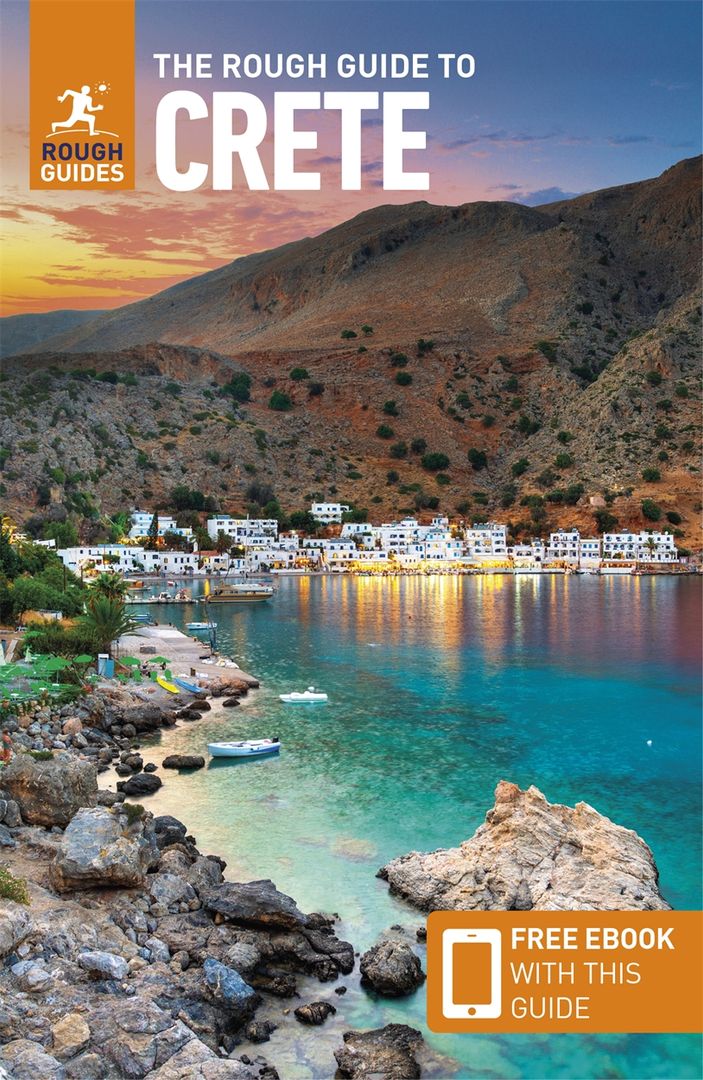 Shipping to the UK and USA only.
Cost calculated at checkout
Description
Series
FAQs
Reviews (2)
This practical travel guide to Crete features detailed factual travel tips and points-of-interest structured lists of all iconic must-see sights as well as some off-the-beaten-track treasures. Our itinerary suggestions and expert author picks of things to see and do will make it a perfect companion both, ahead of your trip and on the ground. This Crete guide book is packed full of details on how to get there and around, pre-departure information and top time-saving tips, including a visual list of things not to miss. Our colour-coded maps make Crete easier to navigate while you're there. This guide book to Crete has been fully updated post-COVID-19 and it comes with a free eBook.

The Rough Guide to CRETE covers: Iraklio; Lasithi; Rethymno; Hania.

Inside this Crete travel guide you'll find:

RECOMMENDATIONS FOR EVERY TYPE OF TRAVELLER
Experiences selected for every kind of trip to Crete, from off-the-beaten-track adventures in the Minoan palace of Knossos to family activities in child-friendly places, like Elafonisi or chilled-out breaks in popular tourist areas, like Lasithi Plateau.

PRACTICAL TRAVEL TIPS
Essential pre-departure information including Crete entry requirements, getting around, health information, travelling with children, sports and outdoor activities, food and drink, festivals, culture and etiquette, shopping, tips for travellers with disabilities and more.

TIME-SAVING ITINERARIES
Includes carefully planned routes covering the best of Crete, which give a taste of the richness and diversity of the destination, and have been created for different time frames or types of trip.

DETAILED REGIONAL COVERAGE
Clear structure within each sightseeing chapter of this Crete travel guide includes regional highlights, brief history, detailed sights and places ordered geographically, recommended restaurants, hotels, bars, clubs and major shops or entertainment options.

INSIGHTS INTO GETTING AROUND LIKE A LOCAL
Tips on how to beat the crowds, save time and money and find the best local spots for beach walks, hiking, visiting water parks or hiking one of Crete's countless gorge hikes that take you from the mountains to the sea.

HIGHLIGHTS OF THINGS NOT TO MISS
Rough Guides' rundown of Hania, Agios Nikolaos, Sitia and Rethymno's best sights and top experiences helps to make the most of each trip to Crete, even in a short time.

HONEST AND INDEPENDENT REVIEWS
Written by Rough Guides' expert authors with a trademark blend of humour, honesty and expertise, this Crete guide book will help you find the best places, matching different needs.

BACKGROUND INFORMATION
Comprehensive 'Contexts' chapter of this travel guide to Crete features fascinating insights into Crete, with coverage of history, religion, ethnic groups, environment, wildlife and books, plus a handy language section and glossary.

FABULOUS FULL COLOUR PHOTOGRAPHY
Features inspirational colour photography, including the stunning Lasithi Plateau and the spectacular Melidoni Cave.

COLOUR-CODED MAPPING
Practical full-colour maps, with clearly numbered, colour-coded keys for quick orientation in Iraklio, Lasithi and many more locations in Crete, reduce the need to go online.

USER-FRIENDLY LAYOUT
With helpful icons, and organised by neighbourhood to help you pick the best spots to spend your time.

FREE EBOOK
Free eBook download with every purchase of this guide book to Crete allows you to access all of the content from your phone or tablet, for on-the-road exploration.
BOOK DETAILS
ISBN: 9781789197372
Series: Rough Guides Main Series
Publication Date: 2/1/2022
Pages: 384
Dimensions: 129 x 198mm